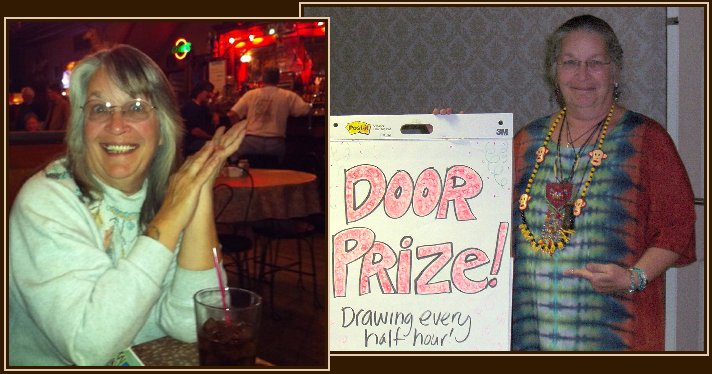 I was born in Traverse City, Michigan on Saturday, November 24, 1951 at 7:47am (C-Section). My Mother reminded me every Thanksgiving that it was my fault she missed her turkey dinner the day I was born. It was the last time Thanksgiving was celebrated on the day of November 24th. After that year it was changed to the 4th Thursday in November. Sorry Mom.

I've lived in Traverse City pretty much all my life except for 4 years (72-76) I lived in Lansing, Michigan, traveling around a little bit and sewing my wild oats, which led to my nickname, Buffalo Gal. This was my 'embroider on everything' period.

I spent 2 summers living and working at Birch Point Campgrounds as Harbour Mistress and loved every minute. I was commissioned to hand paint t-shirts with the campground logo and also developed a stylish crocheted halter top that sold almost as fast as the t-shirts.

I lived the winter of 1978-79 in Indian River, Michigan. What a beautiful place, totally quiet at night and the snow storms were incredible with thunder and lightening... thrilling.

Well, I moved back to TC and enjoyed another summer at Birch Pte. Campgrounds. In the fall I was again employed at Munson Medical Center and stayed there until June 1993. Are we bored with this bio so far?? Well, I definitely am - so in 1993 as the Munson divorce became final I moved towards my art and left the 8-5 daily grind behind me, but not before I was diagnosed with advanced lung disease, COPD; bronchitis, asthma, emphysema, hot/cold air spasms and air trapping. It was my 'Holy Shit!!' moment. My doctor (Dr. David Walker D.O.) advised me to make this disease learn how to live with ME... rather than me folding my cards, sucking O2 and living a small existance ultimately homebound. I needed to find something to keep busy, productive and it needed to be low impact, basically sitting on my butt, keeping my hands busy and mind sharp. This is when the creative explosion happened.

I took hold of my COPD and wrapped it with beads, leather and wire, grabbed my kid and took all I'd made out West for a grand adventure... twice!! We, (Noelle - my daughter) and I sold most of our stuff (she had petoskey stones and helped me dye and shred t-shirts to look like leather skins) when we stopped at gas stations or fruit stands. We did a flea market in Rapid City, SD, went to Mt. Rushmore, Crazy Horse, Sturgis, Devil's Mountain and almost made it to Yellowstone if it had not been the exact weekend the Clinton's were there... We traveled simple, slept in church parking lots and had a great time. But we went broke anyway and had to beat a path home.

We did many craft shows, most of my 'art' at that time were homemade granny crafts with just a few beaded items and some cute little felt Indian Dolls adorned in Southwestern bandana dresses and beaded fringe. Those sold great and I started making the boy dolls with buckskin 'regalia' and miniature beaded breast plates. I was slowly working my way into smaller beads, trying beadweaving and started to branch from what I called 'native inspired beadwork' to more contemporary design of my own.

In April/May 2003 I was published in Beadwork Magazine (Interweave Press) for my 'Peace for All Things' necklace which was a challenge piece I'd done for the bead guild I was involved with at the time. This issue came out the same day the Peacekeeper Missles were launched in the East. I thought it ironic. My necklace debuted my 'star stitch' technique to make tiny beaded people using needle and thread, not to be confused with the 'Crazy Woman Pins' which were made with wire, but somewhat resembled my little folks.

I taught this class at the Bead & Button Show in Milwaukee, WI. in June 2004 and 2005 along with my Scented Beaded Beads, which in July/August 2007 were published in Bead & Button Magazine and MY beads were on that cover.

Many opportunities opened for me at that point. I'd developed my first wire class, "Tree of Life Pendant" and taught that at Lapidary Journals Beadfest for 4 years, selling out each TOL class offered. I also taught at Brighton Beads and More in Brighton, MI., The Bead Weasel in Midland, Mi., Gaylord Arts Center, Gaylord, Mi. and locally at Nawbin Beads and Osiris Beads in Traverse City, MI. At this point I currently teach 2 Adult Extended Education classes at Northwestern Michigan College; Jewelry Wire Wrapping and Beadweaving techniques (peyote, brick, square and spiral stitches) again in Traverse City, Mi. More information on my local classes is on my Classes/Tutorials page.

I'm currently working with a silversmith, Cindy Carlton, supplying her with the beaded Peyote tubes for the necklaces she has designed. This combination of many hours is Mia Sorelli Jewelry. We debuted our necklaces at the Grand Traverse Wine and Art Festival, held on the Grand Traverse Commons this last June 30th. You will find a link to this on my Credits & Links page.

Well, other than being in the Vagina Monologues reading, "The Crooked Braid" maybe 10 years ago... and being interviewed a couple times in the Traverse City Record Eagle newspaper, I've kept a pretty low profile... just kidding... but I do try to keep my life simple but full. My creative days are 11 hours long.

I work on a project (usually making at least 2 of the same but still keeping them one of a kinds) until it's done. Some days I just cut out patterns, make them into a future kit for myself to fill an order. The next day I will assemble a few of the same things, embellishing them uniquely to be pieces to treasure.

Hand stitching takes me back to my embroidery days. Very time consuming but it also puts character and spirit into the piece. I will not be purchasing a machine to do the stitching on my leather work. The day I can't do it myself, well... I will find an apprentice and hand it all down.


My personal life is filled with as much as I can do. I'm devoted to animals. I keep my yard natural and many animals find refuge within my fences to mend, eat or sleep, stay or move on. Most become neutered or spayed before their departure. I love my sage garden - it has 7 varieties; mountain, purple, herb, meadow, russian, variagated and white. In the fall I harvest it and make my bundles for personal use and gifting.

I have one outstanding daughter, Noelle, and 2 quite spirited and gifted granddaughters, Pua Luna and Sequoia Gaea. My best friend is my sister, Debbie Whaley-Olin-Keena-Simerson. I was her maid of honor each time, different dresses. My parents, Don and Lorraine/Joyce Whaley are both gone from this earth as well as my life-partner, Theodore DeVerney who made me promise to grow my hair again and keep walking forward.

Other interests: I'm Vice President of Farmhouse Music Inc. - Past president of Bay Area Bead Guild of Traverse City, Mi. I love music, especially natural music; acoustic guitar, to backyard crickets. I'm hoping to someday again hear the flute-song of my heart being played lightly, gently, drawing me close.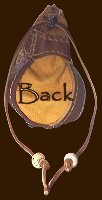 © 2012