Hi, I'm Charlie!



I'm 89 years old. I was born in March of 1917. This is where I'll tell you about myself. Stories about how things were when I was growing up, and about the years I owned & operated a hotel in Traverse City, Michigan. I also owned & ran a restaurant. And I was head of housekeeping at a medical facility in Traverse City. There's a link on the opening page where I'll tell you about my experiences during World War II. And of course, I'll tell you about the things that are happening in my life now.
So just get comfortable & prepare yourself for a bunch of laughs... Because you see, the good Lord has given me a lot of experiences & now I'd like to share some with you!




****************************************



I was born in our farmhouse kind of in between Copemish & Thompsonville, Michigan. My mother didn't speak English. My father was a wonderful man. I had two older brothers and an older sister. They've all passed on, and I miss them dearly.




****************************************



After I got home from the service I was made a Constable. It was no big deal, but my daughter wanted to mention it.




****************************************



I met my first wife Velda at J&S Hamburgers. I was a cook. The same restaurant is still there! We saved up all the money we could & built a little house on Fair street in Traverse City, Michigan. The last I knew, it was still there too! From there, we bought a hotel.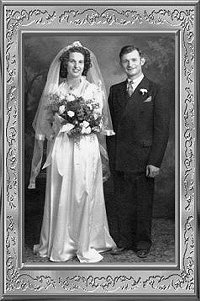 ****************************************
The STAR-X hotel! There were lots of good days there!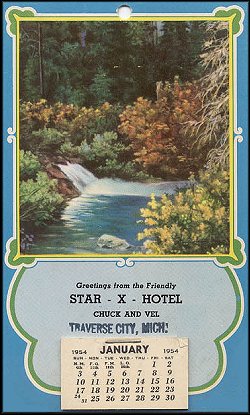 One time the State Police were holding a training seminar in Traverse City & all of the hotels & motels were notified & asked if they would take place in a fake robbery & the investigation. Noone knew if their place would be chosen. We were! Some gentlemen came in & rented a room. They asked us if we would hold some of their money for them in our safe. They gave us a lot of money. I don't recall how much it was now, but it was a lot! (All play money, of course!) They were "arrested" at our hotel. The investigation went fine, except for one thing... They didn't find the money in the room & couldn't figure out where the "robbers" had put it. They didn't think about asking us if we had seen anything or might know where it was! (We returned the money.)

The kids loved it when it was Fair time or when a carnival came to town. We would usually get a lot of the carnies staying at our hotel. They would give the kids free ride passes.




****************************************



I have a very lovely wife. We met & married in Daytona Beach. We're still married but I miss her. She has Alzheimers. I took care of her for as long as I could, but it finally got to be too much for me & we had to put her in a nursing home. They take very good care of her there. We were lucky to find such a good home & it's right in town. I don't visit her as much as I used to. She just stares & mumbles now. She's not aware of anyone or anything around her. It hurts me so much to see her like that. I'll always remember & love my beautiful Faye.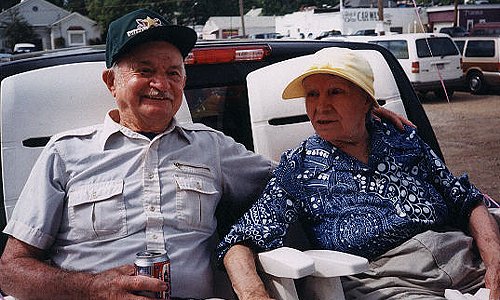 ****************************************



This year after I planted my garden, my daughter & her husband went on vacation, so I did too! I visited my son Ralph who still lives in Traverse City. He is a great artist & you should see what he does! Here is a link to his Web site STAREK DESIGN. We'll be putting up pictures soon of my wonderful vacation!




****************************************





HOME


Copyright © 2001
All Rights reserved:
Charlie's Star-X