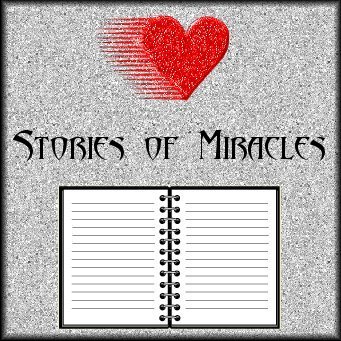 Each one of us could probably reflect back on our lives & see many miracles that have been given to us. I'll start this page with a few of my own. If anyone reading this happens to have one or more they would like to share here, feel free to email it to me & I'll add it as soon as I can. Miracles SHOULD be SHARED! Please inform me if you want your name included or where you are from. If you don't, it will be left out.



midnitestardesign@hotmail.com





AMY GRANT
(Brown Bannister, Gary Chapman, Amy Grant, Michael W. Smith)
"ANGELS WATCHING OVER ME"
"Take this man to prison," the man heard Herod say
And then four squads of soldiers came and carried him away
Chained up between two watchmen, Peter tried to sleep
But beyond the walls an endless prayer was lifting for his keep
Then a light cut through the darkness of a lonely prison cell
And the chains that bound the man of God just opened up and fell
And running to his people before the break of day
There was only one thing on his mind, only one thing to say
[Chorus:]
Angels watching over me every move I make
Angels watching over me
Angels watching over me every step I take
Angels watching over me
God only knows the times my life was threatened just today
A reckless car ran out of gas before it ran my way
Near misses all around me, accidents unknown
Though I never see with human eyes the hands that lead me home
God, I know they're all around me all day and through the night
When the enemy is closing in I know sometimes they fight
To keep my feet from falling I'll never turn away
If you're asking what's protecting me then you're gonna hear me say
[Chorus 2x]
Angels watching over me
Angels watching over me
Angels watching over me
Angels watching over me
Though I never see with human eyes the hands that lead me home

I was driving up north to my best friends house. It was winter, but the roads were clear. It was a fairly nice day & I was relaxing with some Amy Grant music, just taking my time driving. There wasn't much traffic. All of a sudden I hit a patch of black ice that extended all across the road. There was a van coming from the other direction & he hit it about the same time. My car & the van started skidding out of control & I watched as the van came at me head on. It was a full size van & I was driving a little mazda. It's amazing how quick the thoughts go through your mind in an emergency situation! I knew that if the van hit me head on I would die, so I turned the wheel as hard as I could. I figured if I took the hit in the side, I'd stand a better chance. I saw the van miss me by inches as my car slid toward the ditch on the opposite side of the road. I looked up & saw that I was headed for a big metal sign with very thick posts. I remember thinking... It worked once... and I turned the wheel again, as hard as I could. I missed that sign too, but I did hit a smaller wooden sign with the side of my car as I literally flew through the air. All of a sudden my car was stopped & the engine was off. I didn't even feel a jolt. The car was an older car, the kind that when the power was shut off, the radio would stop playing. But what I heard was wonderful & definately a sign from above. The cassette player was still playing & the song I heard was "Angels Watching Over Me". The gentleman in the van had gone off the road too, on my side, & he was shaken but okay. He ran over to assist me. I was buried so deep in the snow that it took both of us to open the door to get me out. He also heard the song & said it must have been angels cause he couldn't stop either & thought we were both going to die. I started the engine just to see if the car would start (It did) & this time when I shut it off, the music stopped. I was eventually towed out of the ditch & drove on to my friends house. I will never forget that experience!


*Char*

Click below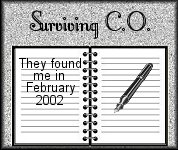 In 1972 we were awaiting the arrival of our first baby. My wife experienced pain and morning sickness during her pregnancy. Our Physician had prescribed a medication to ease these problems. Not knowing at the time that there were side effects that could harm the baby, she took them as her doctor advised.
When my daughter was born, our doctor came to me with tears in his eyes to inform me that my daughter was born with multiple birth defects and a rare blood disease.
The doctor informed me that the birth defects were secondary to the blood disease. The doctor explained that the blood contains platelets, which clot the blood. The body requires Seventy to Eighty Thousand, preferably over One Hundred Thousand. My daughterís platelet count was zero.
He then explained how fragile she was. Any kind of injury that would cause a scratch or a bruise would result in uncontrolled external or internal bleeding.
My doctor, still in tears and finding it hard to speak, told me that my daughter had a One Million to One chance of living.
I canít explain the complete feeling of fear and hopelessness that came over me. I was probably in shock. There was no one to turn to and the doctors had no solutions.
I wasnít a very religious man, but I believed in God and Jesus. That Night I began to pray for my daughterís life to be spared. I canít recall how long I prayed or how many days I prayed. I did know that it would take divine intervention to save her life.
I do remember a telephone call from the doctor saying that they gave my daughter massive doses of vitamin K and she started to produce blood platelets. He said she would have to stay in the hospital for a little longer, until the count was closer to Eighty Thousand.
My Daughter was the first of my children to give me a grandchild.
Do you believe in Miracles? I Do.


*Doug*