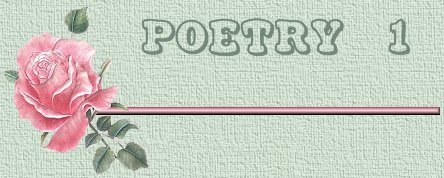 Share with me awhile...
Share a look,
a touch.
Share the feelings we've both forgotten...
I'll be your smile
and you'll be mine.
Together, let's share a little time.
Share a dream,
a laugh.
Share a bit of your life with me.
And then, when the morning light
finds you gone,
We can still share
A Memory...

What do you feel
deep in your heart?
You've never told me, you know...
Your eyes say you want me ~
(At least for awhile.)
Your touch says you really care.
But when you speak,
the words that could stop my breath
and turn my heart over ~
Just aren't there.
Maybe it's best that you don't say the words
that could make me understand
how you feel.
Because now I can wait with anticipation
and dream of how it would be
if you said you love me too.
Yes, my loving you will be enough.
You don't have to say anything at all.
Because maybe if your lips spoke ~
My breath would stop
and my heart would turn over.
The pain would start
and flood my life.
Because you might say goodbye...
So we'll make a pact
and keep the unspoken words you feel
on the back of your tongue
Where they can't hurt me...

I see the wind blowing your hair
and you smile.
I see shyness in your eyes
and a beginning.
Let's walk in a field
and search for 4-leaf-clovers
to give us luck along our way.
I'll share my thoughts with you,
my dreams.
Will you share yours?
What's your favorite food?
Your favorite color?
Do you like music,
dancing,
poetry,
the sky,
laughing children?
Will you ever overcome your shyness
long enough to catch my hand?
Or kiss me in a way
that'll make me feel hazy
like the morning air?
I hope we find each other.
But now all I can do
is watch the wind
blowing gently through your hair ~
From a distance...

Let me give you a sea of memories.
Open your heart
and let me touch your life,
before time slips away.
I'll give a river of emotion
and a castle full of dreams.
Let me paint a picture in your mind
of us beside a stream.
I'll learn the perfect way of touching you,
of giving all you need.
Then when it's over ~
The memory will linger on...

Come closer ~
I want to move in your arms.
I want to roam with you
by hands
and by mouth...
Share your caresses.
I want to share your warm mouth
till I'm free.
Speak passions of the moment
into my hungry ears,
and I'll let you feel
the sweet taste of my love.
Soon you'll become one with me.
I'll paint dreams with you
on marshmallow clouds.
But if you pass me by ~
I'll put on my mask of indifference.
I'll never show
my tears of glass.

You look at me and I understand...
The interest in each other
must not be overseen.
I want to talk to you.
Touch you into permanence.
But we must live this silent understanding.
I guess we're both just a little bit shy
and scared of an intimacy
that might amplify...

As you enter my world
My pulse quickens.
My heart flutters
and threatens to burst it's seams.
My body is warmed and tingly.
Here for a minute,
gone the next.
You never even caught a glimpse
of my hidden love.

Don't turn away so quickly.
Time is all we have.
If we don't take time to look,
to touch,
to know...
What will life be?
Love,
friendship
and hope.
Without these things,
we will always be alone.
Piling blankets on our bed to keep us warm.
Singing sad love songs,
to only ourselves.
Eating alone.
Sitting in bars
or crowded theaters
just to feel the closeness of others.
Everyone needs love...
Both to give and to receive.
Privacy is beautiful...
But not when it turns
to a dull throbbing emptiness.
Who do you laugh with?
Who scrubs your back?
Shares your sorrows and your success?
When you need someone,
Know that I am here...
Waiting in the shadows
of your dreams...

The saddest word will always be goodbye.
You opened my heart
and held my happiness
in the reflection of your eyes.
Don't shade your life from me now.
Let our past love shine on,
at least in my heart.
Even if the sunset
has clouded your memories,
don't say the words
to change my day
to night.
Don't you know...
The
Saddest
Word
Will
Always
Be
GOODBYE...

The emotions surge through my heart,
Effecting every part of my being.
Cautiously I turn to look at you once more...
Yes, it's still there.
After all the weeks of longing,
Of dreaming
And lost wishes.
I thought
Please let him call,
Just one more time.
Even just to say goodbye.
Then eventually I could forget ~
Or at least push the memories away...
Finally,
You've come
To meet me once again.
You hold me in your arms
As the music spins around us.
Lost again
In the world of "I don't care."
Lost again
In the world of "No tomorrow's"
and "No broken dreams tonight."
I won't have to face them for another day.
Let the morning try to comfort me again.
for tonight
I have you...

Poetry © 1978
Site © 1998 - 2017
All Rights Reserved
CHARLENE HANCZ