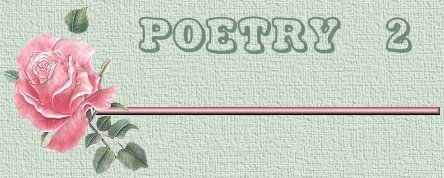 Foolish dreams can cause such pain.
I daydream as I gaze out my window
At the bright sky.
I feel the clouds wrapping themselves around me,
Holding me close ~
Devouring me in soft ecstasy.
The way I feel
When my daydreams come true
And you flow back into my life.
But now the sky is dark.
The mist comes floating down.
As the rain beats against the windowpane,
My daydream of love shared turns grey and cold.
And so does my heart.
Because I know that daydreams are just that.
Dreams of things that never come true.
Dreams from the heart, not the mind.
Reality is here again.
I look at the black clouds
And feel them enveloping me.
They crush me
And force me
To feel the lonliness
And the pain.
The truth in all you've told me
Is pouring down around me.
No commitments.
No involvement.
I will not sleep tonight...
I couldn't face my Night Dreams...

I miss your presence.
The look of tenderness
That passes across your face.
The trace of caring
That slides away
As you catch me watching you.
Your face hardens
And you act cool.
The macho man
Can't let his feelings show
But I know...
Yes, my darling.
The feelings are there.
And shutting your eyes
or turning your head
Can never conceal the emotions
Hiding in your heart.

Cool as the October air
is your attitude toward me.
The evening sends chills
up and down my spine.
Just as the thought of not seeing you again
Leaves me cold with a brittle heart.

As I watch you sleep, I notice everything about you.
The soft silkiness of your forehead.
The fullness of your eyebrows and the length of your lashes.
I can't see the warm color of your eyes, but I know it's there.
Like a beckoning, deep ocean, calling me nearer.
And when I enter the flowing waters, they swallow me up and drown me in the beauty of their love.
When I look closer, I see your chest.
And as I watch it rise and fall with each breath, I know your heart is there.
A heart so filled with love.
And I see your legs, so strong and muscled.
The legs you ran with as a child, and the legs that carry you through your life now.
I notice the full beauty of all of you.
I know your body as well as I know my own.
Each crevice and dimple.
Each hallow, so soft and warm and smooth.
And your lips.
Softer then a big fluffy cloud of imagination and fantasy.
Those lips I'll kiss right now to awaken you.
And we'll start another beautiful day, filled with all the wonder and love that can be imagined.

I wonder if you really know
how much I love you...
and in what way.
You've opened the world for me,
but still I cannot say.
Words seem so simple,
and yet they sound so empty ~
and used.
I hope that I can somehow make you understand ~
before it's too late
and our time together
is over...

Love is not all there is~
Touching you,
dreaming of you.
Waiting for your return.
These are the things you tell me.
Tell me more ~
What else is left?

Here am I~
If you want me
To touch,
To love,
To enjoy.
Here am I~
If you need me
For comfort,
For joy,
For friendship.
Here am I~
If you desire me
For tenderness,
For happiness,
For sharing.
Here am I~
To love you completely
Physically,
Openly,
And endlessly.
Here am I~
Waiting...

When you touch me,
Time
Stands
Still.

Meet me tonight...
Let the moon cast a golden halo
around your heart.
Let the stars twinkle in your eyes.
Never relinquish the hold you have
on my soul.
Let this love we feel
abide until eternity.

I am bonded to you by what cannot be seen.
By all of the hours we have passed in pleasure.
The countless small encounters.
All of the complaints we've listened to and my tears that you helped wipe away.
I am bonded to you by our companionable silence and by the endless details we are finding out about one another.
The bond that is between us is deeper then we are sometimes concious of.
It reaches into places that I forget are there.
I will not undervalue or underestimate what it means to my life, my heart and my psyche to have this type of ongoing bonding experience.
Replicating it would be no easy task and eliminating it would be impossible.
It is a part of me forever.
Respecting it and nurturing it are what will keep it alive and growing.


Poetry © 1978
Site © 1998 - 2017
All Rights Reserved
CHARLENE HANCZ