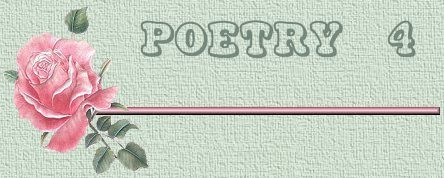 He's here!
Yes, he's here...
But he doesn't understand the song I sing.
Nor does he understand my lyric moods...
It's a wild, musical tune
that fills my open heart.
He's here!
But he doesn't hear...
The music only a poet can know.
It's a song that feeds my hungering mind.
It lingers on ~
Even in the misty morning rain.

Our beginning could be our end.
But then,
The end is also a beginning...
Each phase of our life
is started by an ending.
I can see how this might confuse you.
Think closely now
before the reality of what I'm saying slips away...


Poetry © 1978
Site © 1998 - 2017
All Rights Reserved
CHARLENE HANCZ