Starek's start in sign painting came in 1972....
When looking for work, he wandered into the former Waterbed Place.

The owner said he had no work, but asked if Starek could paint signs. He figured "how hard can this be?" and said "Sure, tell me what you want."

He had no idea what he wanted so Starek went home and drew a frog on a waterbed, which replaced the standard "lilypad and frog routine."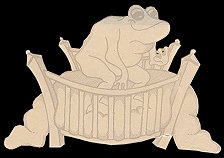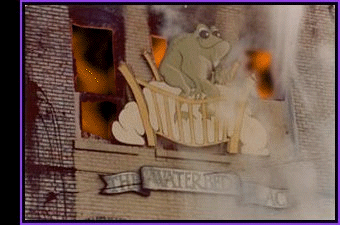 He loved it, and asked how big Starek could paint it. They ended up with an 8-foot by 12-foot custom, cut-out sign. That frog eventually became infamous when the building caught fire in 1974 and a photo of the burning frog was published.




After the fire and the rebuilding of the Anderson Bldg in 1974, Mr. Bender, the owner of the WaterBed Place, asked Starek to make another sign to replace the first one. Starek thought a bit and asked why a business name has to be on a sign.... as long as the sign did it's job of getting people in. Bender trusted Starek to do what he liked, and the 4' x 16' "Once Upon a Waterbed...." sign was painted.




© 2001 - 2011
© STAREK DESIGN