*
*
*
*
*
*
*
*
*
*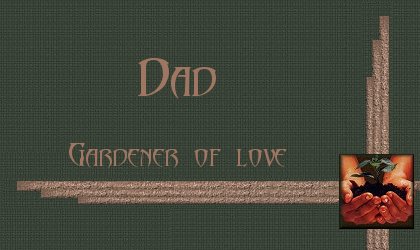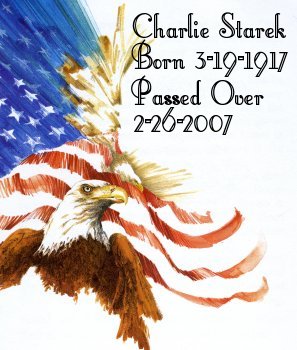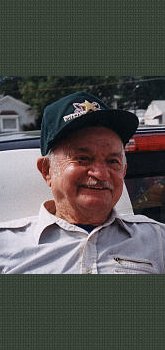 God saw Charlie was getting tired
And a cure was not to be.
So he put his arms around him
And whispered, come with me.
With tearful eyes we watched him suffer
And saw him fade away.
Although we loved him dearly,
We could not make him stay.
A golden heart stopped beating,
Hard working hands to rest.
God broke our hearts to prove to us
He only takes the BEST.




CHARLIE STAREK, age 89, an 8 year resident of Romeo, formerly from Florida, passed away on Monday, Febuary 26th, 2007 at Troy Beaumont Hospital at 12:55 A.M. Charlie was born March 19th, 1917 at home - in Manistee County, Michigan - the son of Frank and Marie (Ceting) Starek. Charlie worked as a farmer - a cook - delivered furniture - worked at a bank - and was Head of Housekeeping for a medical facility for many years. He also owned a restaurant and a hotel both in Traverse City, Michigan. He served his country in WWII in the army. He was a Master Gardener and enjoyed growing and selling vegetables at his daughters house in Washington Township. Charlie formerly belonged to the Trinity Lutheran Church in Traverse City, Michigan.



Charlie is survived by his children:

Ralph of Traverse City

Charlene Hancz (Douglas Timlick) of Clio

Cheryl (Jeff) Thomas of Romeo

Juanita (Tom) Kennedy of Florida

Tammy (Rob) Brannon 0f Florida




He is also survived by 13 grandchildren:

Kerstyn, Joseph, Brad, Scott, Steven, Tanya, Treasa, Kathy, Jeffery, Angela, Stephany, Candace & Christopher




and 23 great-grandchildren:

Sean, Nicolas, Ryan, Michael, Kasandra, Tiffany, Rachel, Zachary, Dennis, Kaelena, Teya, Alexis, Danielle, Jacob, Alissa, Michael, Sarah, Kaylynn, Joshua, Matthew, Ray, Tristan & Thomas
Funeral services took place on Wednesday, February 28th at 11 A.M. at the Henry Malburg Funeral Home of Romeo with Rev. Lynn Witt of the Family of Christ Lutheran Church of Imlay City officiating. Burial took place in the Romeo Cemetery.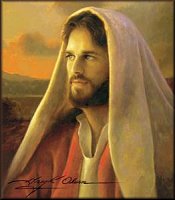 I Can Only Imagine
Words and Music by Bart Millard
© 1999 - Simpleville Music

I am forever thankful that you are my father. God blessed me when I was born to my wonderful parents. All of us kids agree that you're the best dad ever!

I have a lot of memories that I will cherish forever, as I'm sure we all do. I'll share some of them here.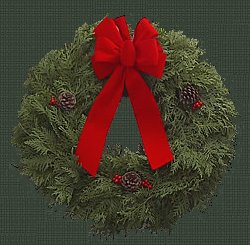 I remember the sweet smell of cedar and watching you magically creating beautiful Christmas wreaths each year. Some you would give away to "selected" people. The rest were sold so you could buy something for mom & the family. I remember watching & helping you more than I remember the things you bought, but I do remember one year you were able to give her a washer and dryer. I also remember you purchasing a new freezer another year. Those gifts were given through love for your family and a wonderful talent to create beautiful things.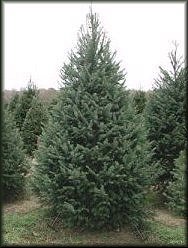 How about going out & cutting down our own Christmas trees and bringing them home. Some families still do that, but not enough. There are so many "short cuts" now that people use. Going to a lot to pick up ones already cut or setting up artficial trees because it's quicker and easier. We never missed out on the fun and special times of Christmas because you and mom always made sure to make the holidays special family times.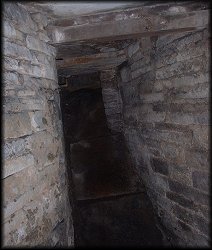 Do you remember the basement at the hotel? I remember going down there during a tornado, and feeling safe because you were with us. Also, the old coal shute! And moms old ringer washer was down there... It's also where you hatched Bantee chicks from eggs, just so us kids could have that experience.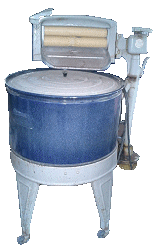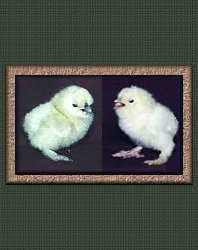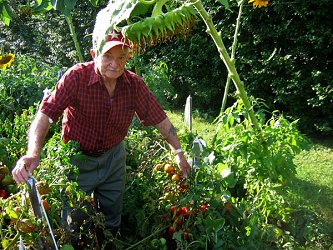 I remember you coming home from work, spending a time talking to us kids, then going out to your garden. Your gardens have always been a part of our lives.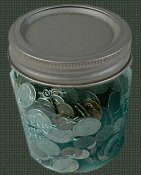 I remember one time when you gathered us kids together and took us to the basement. You told us that you had heard there was a treasure hidden somewhere in the hotel. You guided us to an area where there was a dirt floor, then gave us shovels and told us to dig and see if we could find anything. I remember the excitement we all felt as a jar full of dollar bills and change was uncovered! It wasn't until years later that we found out that you had cashed your paycheck and buried the money there for us to find! What a wonderful, creative mind you had and a great way to share time with your kids!





I will always remember your wonderful optimistic point of view! You would tell me that if you dropped something, even though it was sometimes hard for you to bend down to pick it up, you would always say "Thank you, Lord. I needed the excercise!"