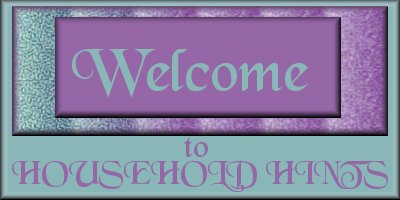 On these pages you will find hints for cleaning & doing things around the house, first aide & many other tips. If you need help with a specific item, check back... You never know when it might be added. These are tips that have been sent to me or have been gathered from other sources. If possible, you should check the results on a small inconspicuous area first, because I haven't tried them all myself yet.










ADHESIVE BANDAGE:

To remove without pain... Soak a cottonball with baby oil & dampen the sides of the bandage. In about 10 minutes, the adhesive will be softened & the bandage will lift off painlessly.






ICE PACK:

Homemade... Mix 1 part rubbing alcohol with 2 parts water & freeze in a zipper baggie. It will be pliable enough to conform to an elbow or knee & can be refrozen after each use. Be sure you put a damp cloth between the skin & the icepack to prevent frostbite.






SORE THROAT:

1 tablespoon of apple cider vinegar in 8 oz. of warm water is a great gargle for sore throats.






SPLINTER REMOVAL:

Apply a thin layer of white glue over the splinter, spreading it around the area. Let dry. Peel off the glue & out comes the splinter.






SUNBURNED SCALP:

Rinse hair with cool green tea. It's anti-inflammatory and astringent properties will help relieve an irritated scalp.






SWEET PAIN RELIEF:

Eating roughly 20 sour cherries - the kind in pie fillings and fruit juice - has been said to have the same pain relieving effect as aspirin or ibuprofen.





ANT REPELLANT:
Leave cucumber peelings on the counter overnight.




Get Rid of Ants:

Put small piles of cornmeal where you see ants. They eat it, take it "home," & can't digest it so it kills them. It may take a week or so, especially if it rains, but it works & you don't have the worry about pets or small children being harmed!






APPLIANCE BOOKLETS:

When they are lost... Dial 1-800-555-1212 to get the manufacturer's customer service number. Most companies have 800 numbers, but if there is none, you can call your public library's business information number & get the address to write for a new booklet.






APPLIANCES:

Touch Up, Quick Fix... You can cover small scratches on white appliances with white typewriter correction fluid or white nail polish.






AQUARIUM:

Cleaning...

1. Soaps & detergents may leave harmful residue. Scrub an empty aquarium with salt (non-iodinized) and a heavy-duty plastic pot scrubber. (Without soap.)
2. To bleach green algae stains from shells, rocks, coral & other decorations, soak in a mild chlorine bleach solution until white. Rinse well under running water & then soak at least 24 hours with enough water to completely cover decorations, & about 1 small bottle of aquarium water chlorine remover.








BABY BOTTLES:

Identifying... Sand an area on the bottle with fine sandpaper & then write your child's name on the roughened spot with a permanent marker. Cover with clear nail polish. It will last for months.






Take baby powder to the beach:

Keep a small bottle of baby powder in your beach bag. When you're ready to leave the beach sprinkle yourself and kids with the powder and the sand will slide right off your skin.






BAGS:

Storing Plastic Grocery Bags... Cut a hole about the size of your fist in the side of a clean plastic milk jug & stuff the bags inside. It holds more than you think & you can pull them out 1 at a time.






BAGS FOR PRODUCE:

Put your hand into the bag as if it were a glove. Then with your "bagged" hand, grasp the bottom end of the lettuce or other produce & invert the bag over the top.






BAKING SODA:

Baking soda safely cleans many things around the house. Sprinkle on baking soda, wipe with a damp sponge or rag & rinse well. Make your sinks, countertops & many other things sparkle. Keep baking soda in a plastic or glass sprinkle bottle, like one that spices come in for quick easy access.






BATH MAT:

To Remove Mildew... Toss in the washer with hot, soapy water & bleach. Add a couple of bleach safe towels for scrubbing action.



BATHROOM MIRROR:
To De-Fog... Without smears.
Blow the mirror dry with a hair dryer.




BATHTUB:

Cleaning Without Bending... Put a few inches of soapy bleach water in the tub. Scrub tub & walls with a sponge mop. After the tiles are clean, mop the tub with clear water.






BATHTUB/SHOWER DRAIN:

Cleaning Hair From Drain... Wipe it clean with a cotton ball or a cotton swab. You never touch the "gunky" hair!






BATHTUB OR SINK STAINS:

Removing... Scrub with a paste made from cream of tartar & hydrogen peroxide.






Bike owner:

If you purchase a new bike for your child, place their picture inside the handle bar before placing the grips on. If the bike is stolen and later recovered, remove the grip and there is your proof of who owns the bike.






BLENDER:

Washing... Fill the blender about halfway with water. Add a couple of drops of liquid dishwashing detergent & put the lid on. Blend for a few minutes, rinse & dry.






BLINDS:

1. To Dust... Put old sox on your hands (inside out terrycloth is good) & spray them with dust attracting spray. Dust each slat separately.
2. To Wash... Put old sox on your hands & spray them with window cleaner. Close the blinds & starting at the top, go over them side to side. Then do the backside.






BOOKMARKERS:

Recycling... Cut strips from the fronts of cards you may have received for birthdays, Christmas or other occasions. They make pretty bookmarkers & gives you a reminder of your loved ones as you use them.






BOOTS:

Drying, Storing... Stuff boots with newspaper to hold their shape. They also obsorb odors.






BOUNCE:

Put a sheet of Bounce in your pocket to keep yellow jackets away. It really works. The yellow jackets just veer around you.



It will chase ants away when you lay a sheet near them.


It also repels mice... spread them around foundation areas, or in trailers, or cars that are sitting and it keeps mice from entering your vehicle.

It takes the odor out of books and photo albums that don't get opened too often.

Repels mosquitoes. Tie a sheet of Bounce through a belt loop when outdoors during mosquito season.

Eliminates static electricity from your television (or computer) screen & keeps dust from resettling.

Dissolve soap scum from shower doors. Clean with a sheet of Bounce.

Freshen the air in your home. Place an individual sheet of Bounce in a drawer or hang in the closet.



Put a Bounce sheet in vacuum cleaner.


Prevent thread from tangling. Run a threaded needle through sheet of Bounce before beginning to sew.

Prevent musty suitcases. Place an individual sheet of Bounce inside empty luggage before storing.



Freshen the air in your car.

Place a sheet of Bounce under the front seat.


Clean baked-on foods from a cooking pan. Put a sheet in a pan, fill with water, let sit overnight, and sponge clean. The anti-static agent apparently weakens the bond between the food & the pan.

Eliminate odors in wastebaskets. Place a sheet of Bounce at the bottom of the wastebasket.

Collect cat hair. Rubbing the area with a sheet of Bounce will magnetically attract all the loose hairs.

Eliminate static electricity from Venetian blinds. Wipe the blinds with a sheet of Bounce to prevent dust from resettling.

Wipe up sawdust from drilling or sand papering. A used sheet of Bounce will collect sawdust like a tack cloth.

Eliminate odors in dirty laundry. Place an individual sheet of Bounce at the bottom of a laundry bag or hamper.

Deodorize shoes or sneakers. Place a sheet of Bounce in your shoes or sneakers overnight.

Put a Bounce sheet in your sleeping bag and tent before folding and storing them. Keeps them smelling fresh.






Broken Glass:

Use a dry cotton ball to pick up little broken pieces of glass. The fibers catch ones you can't see!



BUGS:
To keep bugs off of you, you can use VANILLA EXTRACT!

BUTTONS:
Quick Fix & Preventing Pop-offs...
Put a small dab of white glue on each button.




CANDLES:

Freeze candles to store them. It helps retain their scent & also makes them burn longer.






CLEAN HANDS:

Mix equal parts of cornmeal and powdered laundry detergent together. Wet hands and sprinkle mixture on. Rub together. Rinse. Does well on any type of grease and oils.



HAND SANITIZER:
Makes 4 oz.
1/4 cup aloe vera gel
1/4 cup alcohol (100 proof vodka will also work)
10 drops of fragrance oil (opt.)
1 drop food coloring (opt.)
Combine ingredients & stir.
Store in a spray pump bottle.
Will last indefinitely.




Flexible vacuum:

To get something out of a heat register or under the fridge add an empty paper towel roll or empty gift wrap roll to your vacuum. It can be bent or flattened to get in narrow openings.






Foggy Windshield:

Do you hate foggy windshields? Buy a chalkboard eraser and keep it in the glove box of your car. When the windows fog, rub with the eraser! It works better than a cloth!



INK:
Hair spray is good for removing ink.




LINEN:

If you have age spots on linen which has been stored away for a long time, sponge the spots with full strength peroxide, then rinse with cold water & wash as usual. More than one application of peroxide may be necessary for very stubborn spots.



LIQUID HAND SOAP:
********************
#1. 1 bar of hand soap or slivers to equal 1 bar.
grater & a blender
1 cup boiling water
Grate soap & mix on lowest speed of blender till melter.
********************
#2. soap slivers equal to 1 bar or 1 bar of soap
grater & a large microwavable bowl
3 cups of water
container with pump
Shred the soap slivers or bar of soap.
Place in the bowl & add the water.
Microwave on high for 6 minutes, stirring every 2 minutes.
Cool. Then fill container.

PANTYHOSE:
Put your new pantyhose in the freezer.
This makes them resist runs.




POTPOURRI:

Microwave... To make your house smell like baking pumpkin pie, add 2 teaspoons of pumpkin pie spice to 1 cup of water in a micro-safe dish. Microwave on high until it boils, then cook for 3 minutes more.






Reducing Static Cling:

Pin a small safety pin to the seam of your slip and you will not have a clingy skirt or dress. Same thing works with slacks that cling when wearing panty hose. Place a pin in seam of slacks and the static is gone.






Reopening envelope:

If you seal an envelope and then realize you forgot to include something inside, just place your sealed envelope in the freezer for an hour or two. It unseals easily.






ROOM DEODERIZER:

Vacuuming... Put a scented fabric softener sheet between the inner & outer vacuum bags or into the bag of an upright vacuum cleaner to release a pleasant scent into the room you vacuum. The sheet can be used several weeks. Other things you can add are a few whole cloves, baking soda, a cotton ball sprayed with perfume or dabbed with peppermint oil.






RUBBER GLOVES TREATMENT:

Lather your hands with lotion or oil before putting them into rubber gloves for washing dishes or other cleaning. The gloves will slide on & off easily & your hands will get a good moisturizing treatment, especially working in hot water.



SCUFF MARKS ON SHOES:
If you use hairspray & a damp cloth,
it should remove all of the scuff marks.




WINDOW CLEANER:

In a one gallon jug, mix 1 pint rubbing alcohol, 2 tablespoons non-sudsy ammonia, 1 teaspoon dishwashing liquid. Add 4 drops of blue food coloring & fill the jug with water.






TOBACCO SMOKE:

Stale Room Odor... Pour about a capful of ammonia into a bowl of water & leave it out overnight, out of the reach of children & pets. In the morning the odor will be gone.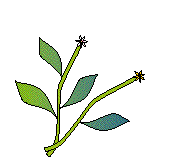 AQUARIUM WATER:

Fertilizer... When you clean out your aquarium (NOT salt water tank) water your plants with this natural fertilizer solution.






AVOCADO:

Rooting From Pit...

1. The usual way is to poke toothpicks in the sides & let the fatter end rest in water till roots form & the plant is about 4"tall. Then plant in dirt.
2. Remove the outer brown skin & put it in a zipper baggie with 2 tablespoons of water. Put bag in warm place. After about a week, the seed will split. After about 2 weeks, there will be root growth. After about a month, there should be enough root to plant in soil.
3. Plant the seed with the pointed end up in a pot of dirt. Place in a sunny spot with no direct sunlight & keep moist.
Hint: When the plant grows to about 6" tall, cut it in half & it will branch out with new growth. Avocado trees can grow 10 to 12 feet tall.






Newspaper weeds away

Start putting in your plants, work the nutrients in your soil. Wet newspapers and put layers around the plants overlapping as you go. Cover with mulch and forget about weeds. Weeds will get through some gardening plastic but they will not get through wet newspapers.






Squirrel Away!

To keep squirrels from eating your plants sprinkle them with Cayenne pepper. The cayenne pepper doesn't hurt the plant and the squirrels won't come near it.




More will be added soon.


Copyright © 1999 - 2009.
Evermind.
All Rights Reserved:
Site Set-Up & Maintained by:
© MidNite Star.