If you are looking for 'art on the wild side' this is the place to start. Buffalo Gal's Last Stand is MY take on bead, wire and leather art, taking it to the next level. My art embraces many cultural influences as well as periods in time, i.e; Wild West, Renaissance and the marriage of Ezmirelda and Mad Maxx. My work is all 'done the hard way' with my hands being my best tools. NO MACHINES.

Embracing the Wild West with: fringe, beads and copper cones; Jingles, feathers and precious stones. Odd trinkets, as stories say, Things I've gathered along my way.

Being a good little Viking lass, I love a good joust, just throw the gauntlet down and I will give it a go. My leather work is all hand stitched and simply functionable, sometimes having multi functions for the same item.

Gypsies and fortune teller possibles bags for Tarot, Rune or bones. If you can think of it, I will make it happen.




Now, go into the shop and see what I have.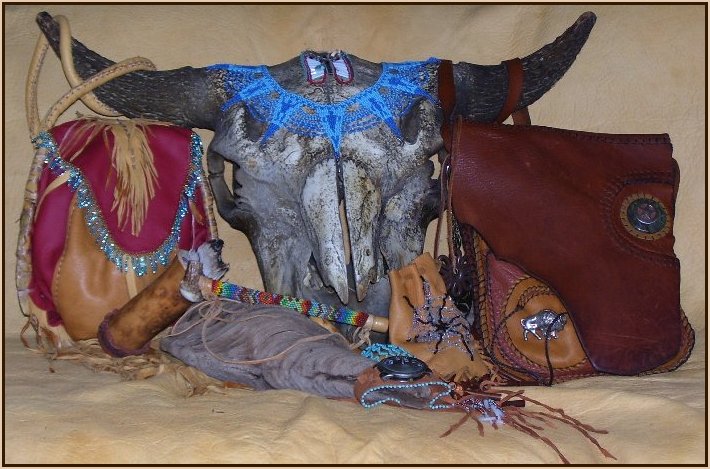 While viewing my pages, if you wish you may listen to one of my favorite music sites.

Leatherwork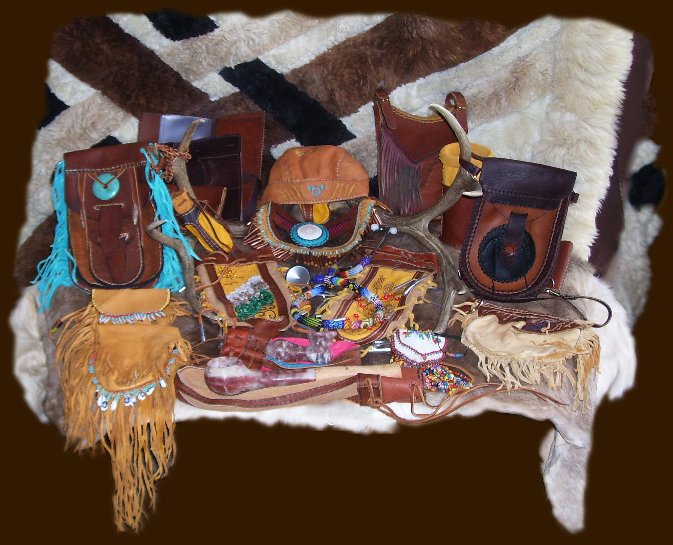 Beadwork/Wirework




****BEWARE****

The images you will be viewing are not the usual or ordinary bead work you might be comfortable with... I call my art "Intense Bead & Wire Weaving"... My hope is for you to enjoy what you see and possibly find inspiration for YOUR future projects. While my bead/wire art may seem a bit intimidating, but honestly folks, it all begins with stringing a single bead on either wire or thread, with the rest being a matter of time invested in the project.
Along with my bead and wire art for inspiration, I also offer most finished pieces for sale and also have a variety of kits or classes for purchase.



Supplies/Tutorials/Classes




Bio




Credits & Links




Combined Talent & Art
Giggling, Gossip & General Giddiness
(SHIT HAPPENS!)
Buffalo Gal's Last Blog
This is a separate page so you can exit out & you will still be here!
PLEASE BUFFALO GAL.... Tell us about the STORY POLE!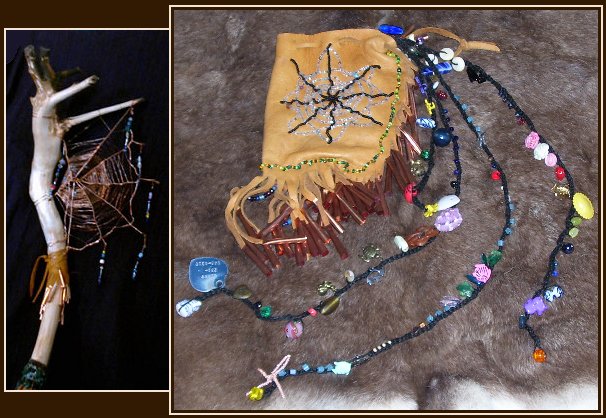 Grandmother's Story Pole and Bag of Tales


While I was involved with the Bay Area Bead Guild (which has since been disbanded because we all went our ways), each year we would have a Bead Challenge. The object of the challenge was to create an item/piece that would use ALL the beads that members *donated* and allowing us to add more beads, use any media(s) we desired while keeping in mind the subject of the challenge. Our first challenge was to just create something.... some years we had themes, other years we just went wild. I believe this Story Pole/Bag of Tales was not themed, just open to creativity.

I'd looked at my little bag of beads. (*Each member would donate 30 beads of their choice.) Some gave seed beads, some gave larger focal beads. Each member gave something different to the Divvy Diva (usually Tonja Carlson) who made up our little kits to work from. We would decide on the amount of time we had to create and the game was on. My bag was very uninspiring. I couldn't think up anything new to do since the guild was in it's 5th+ year... so I was stuck.

I'd just watched the first movie in JRR Tolkien Triligy and found a little inspiration in Gandalf's Staff. Not wanting to copy that, I looked thru my pile of future walking sticks and found one that looked like it needed a spider's web woven through the top branches which were really the roots of a little sapling. I figured the random beads could be the 'captured' and used the sparkly ones like tiny dew drops. It was my introduction to wire work, wire weaving.

I still had beads left over, some were bug beads and a few extra little sparkly seed beads. I looked through my stash and found more of those beads, a partial leather hide (more of a scrap) and some black crochet cotton. I'd read somewhere about a lady that made a special story bag for her grand-kids, incorporating a few long strands of yarn with little trinkets the kids gave her over the years, special buttons and assorted shells, twigs and anything interesting intertwined in the long laces. Each lace was different... I got an idea!! It was all coming together now.

I made the copper wire spider web in the top of the sapling pole, put together a very crude leather pouch with fringes and real copper cones. I stitched a beaded spider web on the top of the pouch, affixed the long strands (4 of them) with as many buttons, beads, coins, stones, twigs, shells, and little bubble gum trinkets, shoved them into the bag and tied it to a low branch on the sapling pole. Then I took a length of deer skin, fringed that, added more copper cones to each fringe then wrapped it around the sapling pole where you would normally rest your hand. It made a wonderful noise and looked very interesting.

Now I needed to try it out. I found a few neighbor kids, sat them down and asked one of the kids to pull one strand out of the pouch. She did and looked puzzled. Me too... what should come next? According to the article I read, this Grandmother would have that child think/start a story about the item (button, bead, trinket, etc) hanging at the end of the strand. After a couple sentences I had that child pass the bag with that strand out, to the next child and had them add more to the story using the next item on the strand as to what came next in the story. The Grandmother would keep saying, "... and then?" keeping it passing around, each child keeping the story going until the strand was finished.


In some Native American Indian lore, the Grandmother is the Storyteller (as also the Spider with her web being the collection place for many things to be treasured). The Spider Webbed Story Pouch carries the stories of the Children, where the Spider Webbed Staff and it's copper cone fringes helps the Grandmother gather her Children to hear the old stories of their cultures, and also aids an Elder to get around. Her staff is her signature, her stories to be told.

I will probably not make these to sell, rather I would tell you how to make your own Story Pouch for your grandchildren or young folks in need of entertainment. You can find trinkets, beads, shells, buttons and a multitude of things to string on the story strands. Your bag doesn't have to be leather, it can be anything you come up with. It could be an already made old purse (maybe with finger puppets in the pockets or whatever for the kids to stick their hand in, pulling out something interesting to build a story around.

This is YOUR time with our greatest assets. Tell them stories of your family, you could put pictures in the pockets, scraps of pretty cloth, different textured items.. so many ideas and the best quality time with your young people. Storytelling is how the traditions are passed down and remembered in many customs, but if not told, there is nothing of it to remember. Our children are our HOPE for the future. They will only learn good things from good examples. Be the example to teach our children, well..


Site Set-Up & Maintained by:
MIDNITE STAR DESIGN



All information and pictures on this site are © BUFFALO GAL unless otherwise noted.

© 2012





SUPPORT OTHER MICHIGAN BUSINESSES!

HELP KEEP MICHIGAN STRONG!

BUSINESS EXCHANGE LINKS

STAREK DESIGN / 2 GUYS AND A LAPTOP

AUNT B'S CAKES & DESSERTS / WOODLAND SANTA / EVOLVE

ROSEGATE RESIDENTIAL / MADAME RUE'S / IRISH HILLS FARM

DRAGONFLY OUTREACH