INSPIRATIONAL MUSINGS
And Other Bits Of Wisdom....
These have been gathered from many sources.
Feel free to submit anything that you would like to share!
aaniikee@yahoo.com
Click on the underlined Titles to view the links.

~Leaving a Positive Footprint~
~BLESSING SPACE~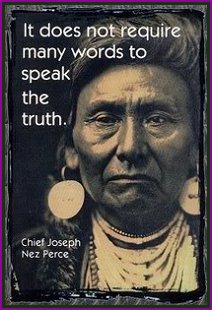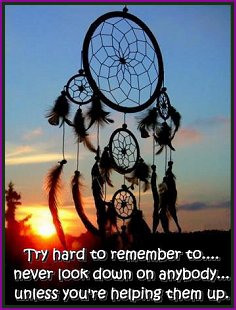 ~Releasing and Welcoming~
ENERGETIC SWEEPING




~NATURAL LAWS~


"The old Lakota was wise. He knew that man's heart away from nature becomes hard; he knew the lack of respect for growing, living things soon led to a lack of respect for humans too. So he kept his youth close to its softening influence."



~Luther Standing Bear, OGLALA SIOUX~


When we live in nature it's like constantly being in school. We are in an environment that is always teaching. We are constantly being reminded that there are laws, Natural Laws, which are running the universe. Once we know these laws and we drift from them, we start to live our lives in a different way. Soon we become discontent, selfish, and disrespectful. Then, we get in trouble. If our lives have become this way, it can be reversed by going back to nature to be among our teachers.



Great Spirit, teach men, again, the Natural Laws.




~Unexpected Enlightenment~
~You Never Know Who You'll Meet~




~Your Gift~




"But each of us must find out for himself or herself what their gift is, so that they can use it in their life."

~Jimmy Jackson, OJIBWAY~


The old people say, everyone has a song to sing. This song is the reason we are on this earth. When we are doing what we came on this earth to do, we know true happiness. How will we know our song? Pray. Ask the Great Mystery, "What is it you want me to do during my stay on earth?" Ask. He will tell you. He will even help you develop yourself to accomplish His mission.



Great Spirit, help me find my song and let me sing it.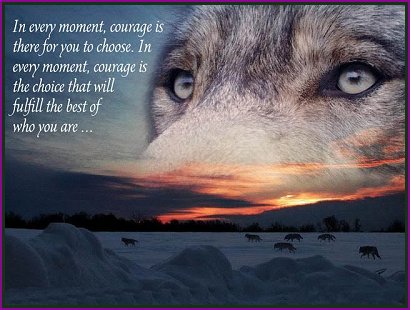 "Hear me! A single twig breaks, but the bundle of twigs is strong."

~Tecumseh, SHAWNEE~


You can take one arrow and break it in half. But if you take 12 arrows in a bundle, it's almost impossible to break any of them. There is strength in Unity. When we are together we are very powerful. This is the way the ancestors told us we need to be. Strong. We need to unite ourselves. This is why the Elders say, when we make decisions, we must first consider the good of the people. If every person in the community thinks this way, then we will always make strong decisions.



Creator, let my decisions have the strength of the bundle.




~2 HORSES~

THE EARTH MOTHER NEEDS OUR PRAYERS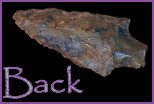 AANII GRANDMOTHER KEE© 2009 - 2013